Interview with Yumi Katsura
Yumi Katsura's dresses are considered modern masterpieces.
Born in Tokyo, Katsura studied the techniques of haute couture in Paris at École de la Chambre Syndicale de La Couture Parisienne.
In 1964, Katsura opened her first bridal salon, and presented the first bridal collection show ever held in Japan. Some of the most exclusive stores in the States, such as Saks Fifth Avenue, Bergdorf Goodman, Henri Bendel, and Neiman Marcus, purchased her dresses.
After another successful Haute Couture Paris Fashion Week show — held at the town hall of Paris' 4th arrondissement — we spoke with the designer backstage .
Q: Thank you for having us! Is there someone in your professional or personal life you turn to as a source of inspiration? Who do you think about when you're designing your pieces?
It's very difficult to say one person, but maybe I can say Mr. Pierre Balmain. It was 1975 when he came to the Tokyo boutiques, and he visited us by chance. He stopped by and he was very, very impressed.
Yumi Katsura Haute Couture
[portfolio_slideshow id=30892 align=center width=699 click=advance thumbnailsize=40 showcaps=false]
Pierre Balmain visited us and he was very, very impressed
As you know, my career started as a wedding dress designer, so my boutiques were all wedding dresses. He said, "Oh, my God, I am very, very jealous of you because you are working in weddings, in a person's happiest moment." So I decided to proceed as a wedding dress designer. This is one of my mentors, Pierre Balmain.
Q: I see that your Japanese roots are very important to your designs. I know you reinvent the kimono each time you present. How do you do this?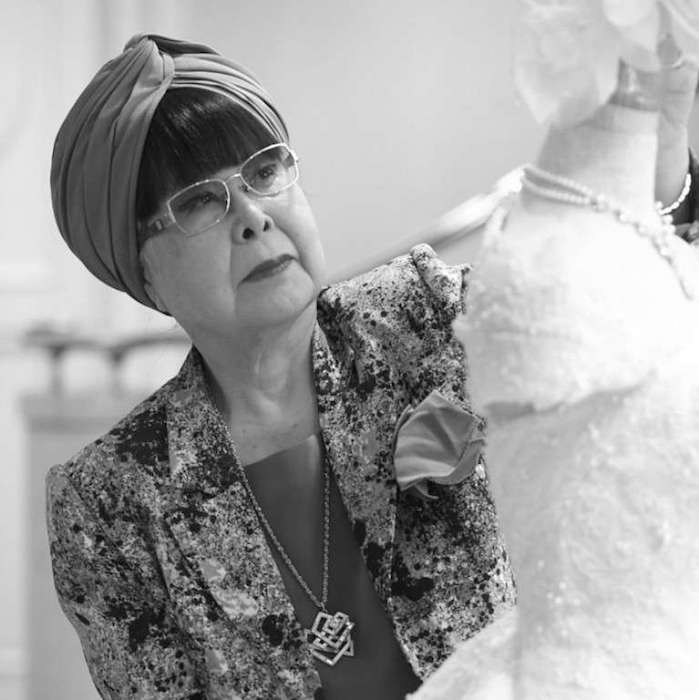 The prototype of the kimono doesn't change. It's always the kimono. But for me, the kimono is like a picture. A painting. If you want to try expressing the painting in a normal jacket, you cannot do that because of the length of the jacket. In the kimono you can express the beauty of the picture, and that is why I use the kimono. The details. It's very important. It's very modern and also it changes all the time.
The kimono is very modern and also changes all the time
Q: Are there any particular markets you would like to enter or experiment with that you haven't had the opportunity to yet?
Russia, Germany, and the Arab World. I don't know much about them yet, but the people working in the boutiques in New York say that Russian and German people are very interested in the product. I also see many Arab customers in our Paris shop. I have done a lot of work in New York, Japan, China, and even Myanmar. But yes, why not try Russia, Germany, and the Arab world?
That's what I am looking forward to.
I am looking forward to Russia, Germany, and the Arab world?
Q: That's very exciting!
Yes, I have lots of things to do!
My mission is to make women happy all over the world. For example, that's what I am looking for in all my work — and all my career. For example, the calligraphy dress that's behind you, that is a poem I did, which talks about happiness and thanks to all the people around me. So since I started my career, I love the moment that makes women happy. That is what I am looking for. That is why I am doing this.
I love the moment that makes women happy.
Q: I love the simplicity in some of the colors but the complexity of the prints — how you manipulate the color to give it so much life? Where do you draw your inspiration?
This motif of the plant on some looks is drawn by Suzuki Kiitsu, a painter living in the Edo period. Some are not so vivid, just a little bit modest. But the lines are very feminine, girly. I wanted to point out that the ruffles up top have gradations in color. That's why I love it. Of course, we can do it without the gradation, but with it, it's just a bit more special. Also, as I said, they're always in the line of tradition and the modern.
The motif of the plant is drawn by Suzuki Kiitsu of the Edo period
Q: Thank you very much for the opportunity to interview you! We look forward to spotting the coming season's looks on happy women across the world.
##
Learn More
With love,
FWO